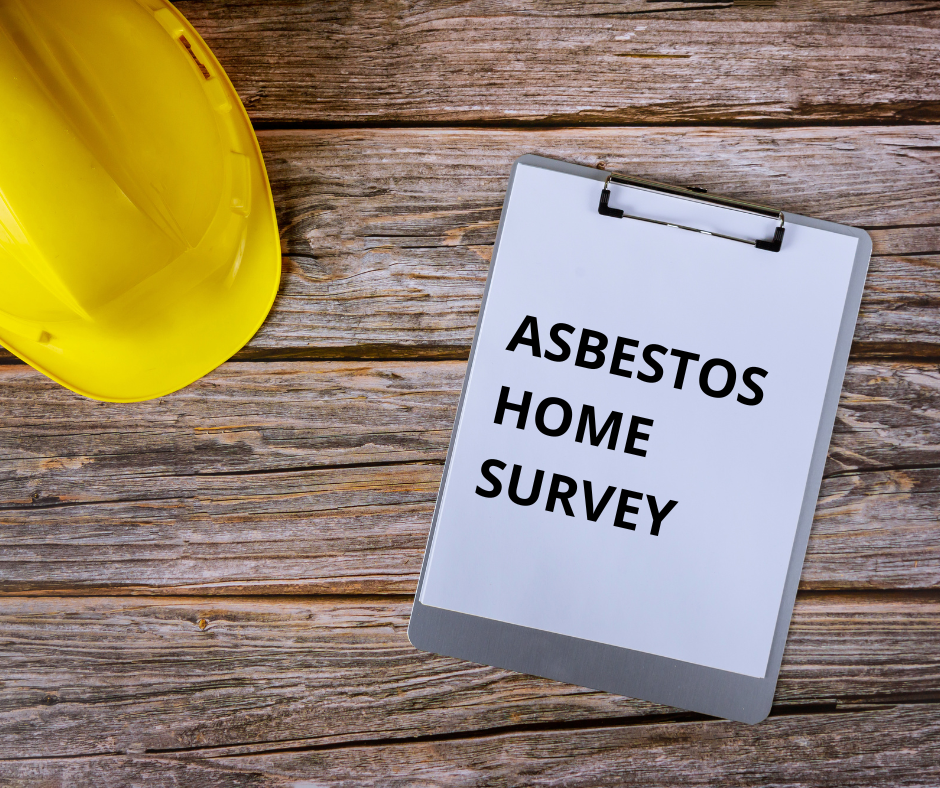 A wide range of construction was carried out in the UK with the use of asbestos-containing materials until it was banned in 1999. Due to the extensive use, there are still over a million buildings in the UK which contain asbestos – this includes domestic and commercial properties.
Is asbestos likely to be in my home?
If your home or building was built before the year 2000 then it MAY contain asbestos.
Asbestos can be found in many building materials and nearly all of the time it cannot be detected by the eye. So, if you are planning on buying a home then you would not know the extent of asbestos presence until a trained professional has surveyed the property
Types of places asbestos can be found in homes:
*This is not a complete list, below is a handy diagram which includes more places asbestos can be found , or you can visit the HSE Website HERE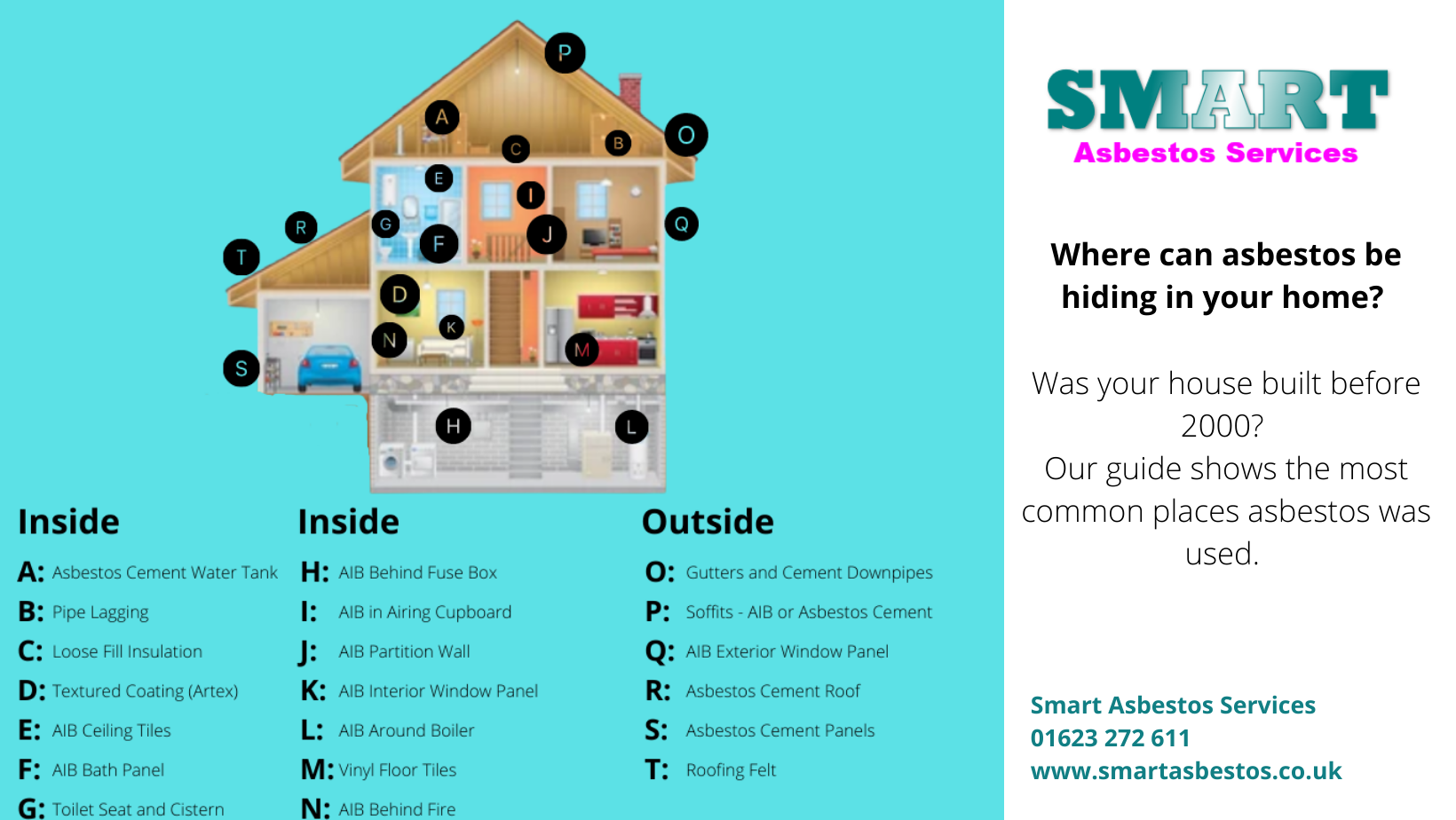 What is an Asbestos Survey?
Asbestos surveys provide accurate information on the type, location, amount and condition of asbestos-containing materials in buildings. When at your property, the asbestos surveyor will assess the level of damage or deterioration in the asbestos materials and advise whether remedial action is required.
Why should I get a Home Asbestos Survey?
Disturbance of asbestos during maintenance, refurbishment, repair or installation may result in workers or homeowners being exposed to asbestos fibres. To prevent exposure, information is needed on whether asbestos is or is not likely to be present. The person then carrying out the work can assess the material and deal with it correctly.
If selling or buying a home (built pre-2000), it is advisable to get an asbestos survey so that each party is aware and no surprises are found later down the line. It is becoming more common for mortgage lenders to request an Asbestos Survey prior to exchange to determine if the value of the property will be affected
Asbestos surveys will give you peace of mind
If planning works in the home, then do not put tradesmen at risk – inform them of where asbestos can be hiding
If you know where asbestos is in your home, you can manage it or get it removed safely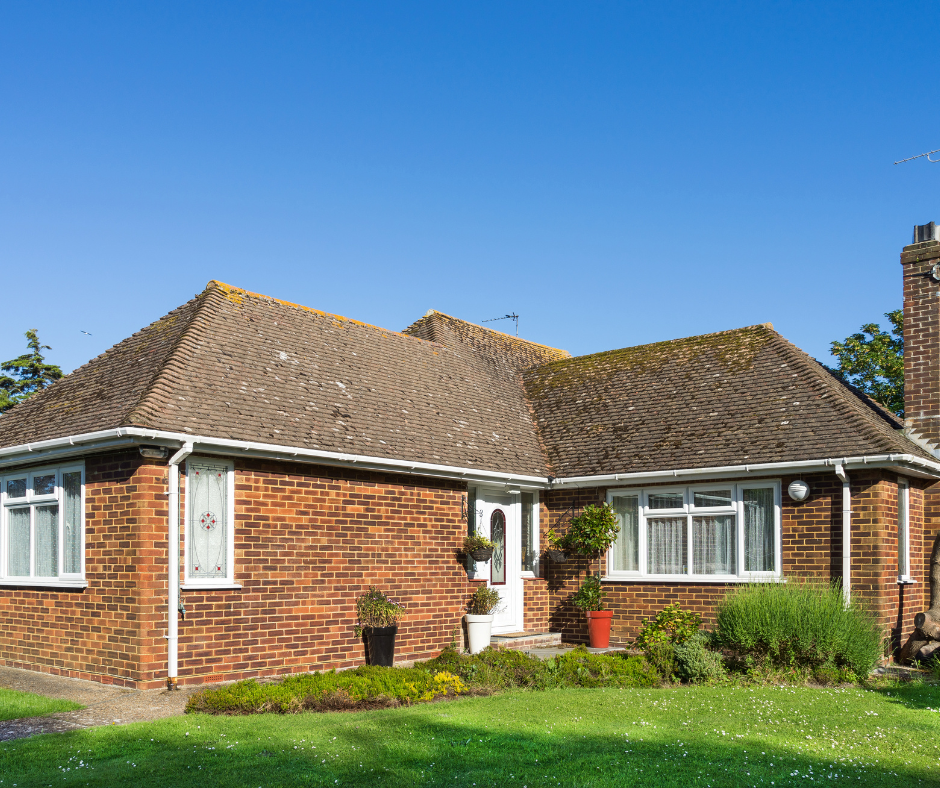 What is included in a Home Asbestos Survey?
Asbestos Home Surveys include the following information as a minimum:
The location and extent of asbestos in the property
Which asbestos type the material is
Condition of the asbestos
A diagram of the locations asbestos has been found
Certificated of samples taken from the property (from a UKAS Accredited Laboratory)
Any recommendations from the surveyor, in a straightforward, clear and unbiased report
This type of survey is called a Management Survey and is designed to identify asbestos materials which could be disturbed during normal day-to-day occupation and routine maintenance. The management survey is designed to be minimally intrusive when samples are being taken. If refurbishments or demolition is planned, then a Refurbishment and Demolition Survey would be required. For a general Home Buyer / Seller Asbestos Survey – The Management Survey would be suitable.
Is an Asbestos Survey a Legal Requirement for buying/selling a home?
No, Asbestos Surveys are not a legal requirement, however, more lenders do require them before the exchange of contracts. Therefore, it is advisable to get a survey completed.
How much do Asbestos Home Surveys Cost?
Unfortunately, there is no one set price for this service. The cost will depend on the size and type of the property. Most Asbestos Survey Companies will have set prices for set building types, therefore it will be simple to obtain a quote
Can I remove Asbestos myself from my property?
Asbestos is at its most dangerous when it is airborne. So we would always advise that if the material is not damaged or deteriorating then leave it in place.
It may seem like a good idea (and cheaper) to remove asbestos yourself, but unless you are trained to do so, this you can be putting risk to anyone around you including yourself. It is always our advice to get a professional to remove your asbestos, whether this is with Smart Asbestos Services or another reputable company.
Need some advice about Asbestos waste?
Call us on 01623 272 611 and we'll be happy to help