Asbestos Collection Service across Nottingham, Mansfield, Derby & Leicester
We accept small and large quantities of Asbestos waste, from one sheet to 100 bags, we'll be able to quote you at an affordable price.
Call us on 01623 272 611 for a free quote.
An Affordable Asbestos Collection Service
If you have found asbestos at your property or have already got it down yourself and just need it taken away then we can help.
You can provide us with photos or contact us with what you have and we will work out the best and most cost-effective route for the collection.
All asbestos collections come with the legislative paperwork to prove who collect the asbestos and where it was disposed of.
Contact us and we will be more than happy to provide a quote or complete the ASBESTOS COLLECTION QUOTE FORM at the bottom of this page.
We have our own Environment Agency Licensed Asbestos Site, therefore if you feel more comfortable coming to us then we can book you an appointment to dispose of asbestos at our site in Kirkby in Ashfield. You can book this online HERE or call us to book, all we need is 24 hours notice.
Types of Asbestos we Collection / Remove with secure disposal
Our prices are affordable and low cost.
We offer a price per sheet or bag option to ensure you get the most cost-effective solution for your asbestos removal and disposal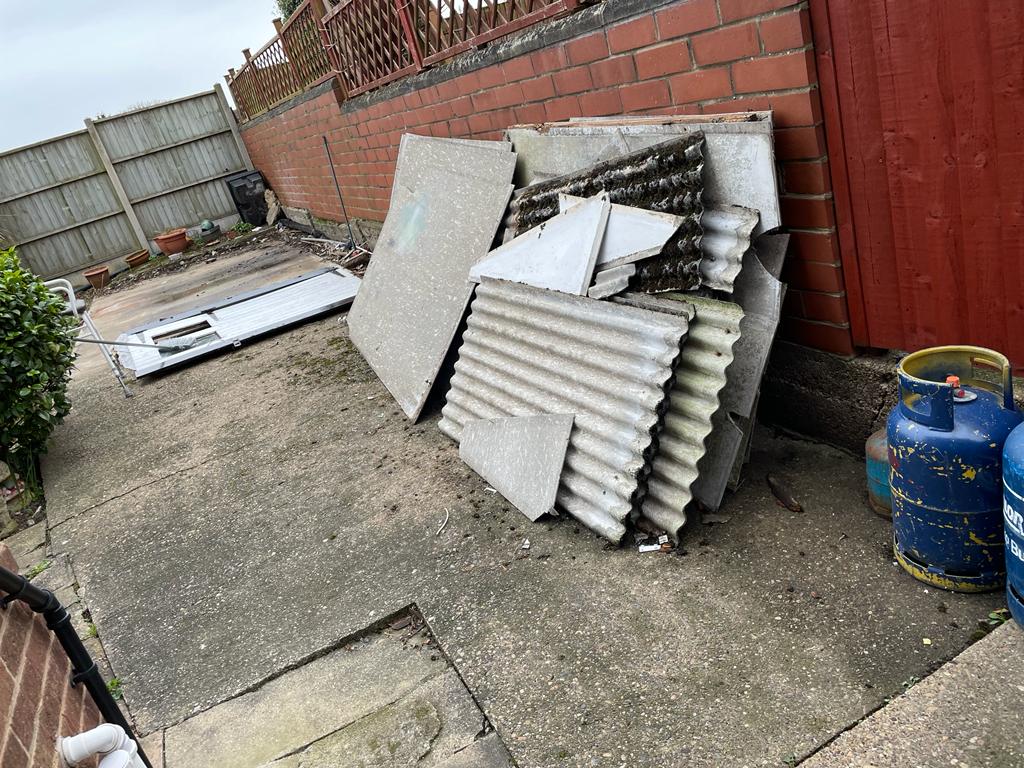 Quick collection & asbestos removal
We're here to make sure that you're safe at all time. We'll arrive on scene and assess the situation with our asbestos surveys in hand.  Once we know exactly what we're dealing with, our team of experts can get to work. We'll remove all of the asbestos for you and contain it correctly. We can then transport it to our specialist facility and make sure that it's disposed of in the proper fashion. That's why we're accredited and trusted by not only the Government's Environment Agency, but also the Wamitab and the CIWM which means you can trust us too.
We understand health concerns around asbestos and so we do everything we can to get to you promptly to ensure that you're able to minimise the risk. So, if you need help and you'd like to collect your asbestos give us a call on 01623 272 611  or us the form below.
1
Let us know the quantity
Email, call or complete the form below to let us know how much Asbestos needs to be collected
2
Book the collection
If you're happy with the price that we quoted and you'd like to proceed, simply let us know and we'll arrange the collection for you.
3
We'll collect
Our professionals will come and collect your asbestos safely, you'll get full certification to say that it's been disposed of legally.
Example 1 
Mr and Mrs Jackson moved into a new house. On their back garden was a pile of asbestos they didn't want to touch. Mrs Jackson sent us the photos and an approximate guide of how many sheets were there. We quoted, Mrs Jackson was happy with the quote and we collected the next day. All the asbestos collected was brought back to our own Asbestos Waste Transfer Station and Mr and Mrs Jackson were provided with copies of the legal proof of secure disposal (Consignment note or Certificate as some people call it)
Example 2 
Mr Ward had taken down his old asbestos garage and decided he would like a skip for the removal. He called us, we explained that a skip would incur a charge of a minimum 2 ton and haulage, therefore we offered an alternative service of a collection which worked out at less than half of what a skip would have been. If we feel that we can save you money then we will always offer an alternative.
Secure & Safe Disposal
You will receive proof of secure disposal on the same day we collect your asbestos.
Affordable Prices
We offer competitive prices on all aspects of asbestos removal.
Quick Quotations
The team aim to send a quote to you as soon as possible so we can get on with the job at hand.
Frequently Asked Questions About our Asbestos Collection Service
What happens to the asbestos when I use the asbestos collection service?
There are three ways we can collect your asbestos waste, we can collect loose asbestos sheets or bagged asbestos or you can hire our asbestos disposal bag which we provide and collect for you once you have filled it or we can provide enclosed asbestos skip for large quantities to be removed.
When we collect your asbestos waste it is taken to our licensed asbestos disposal site. Here your asbestos will be logged into our system using the unique number on the consignment note we provided you. The Consignment note number is your reference which can be used to track the "journey" of your asbestos once it has been collected. Once logged into our waste transfer station the asbestos is stored within our enclosed asbestos skip until it is ready for secure burial at the landfill
Should I get the asbestos collected or bring it to you direct?
Ideally, we would always prefer to collect your asbestos waste ourselves because this limits the time you are handling it. When you start to move the asbestos it releases fibres and if it is not handled correctly the asbestos can break causing a further risk of disturbance. Our trained staff carry out asbestos removals on a daily basis and are therefore equipped to deal with all types of non-licensed asbestos waste. If you have the knowledge and information to handle and transport the asbestos waste yourself then we welcome any general public as well as business customers to bring your asbestos into our transfer station at our asbestos disposal site.
Do you offer asbestos collection near me?
Being based in Kirkby in Ashfield Nottingham near Mansfield our asbestos collection services are most popular within the East Midlands including Chesterfield and Derby. We do however offer a Nationwide asbestos collection service so no matter where you are or where you are working we will be able to provide you with a quote for asbestos collection.