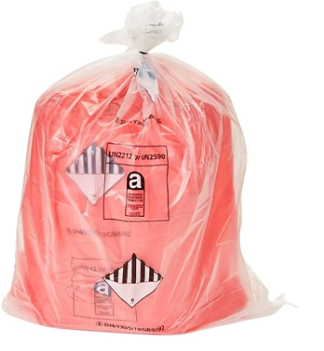 If you are in a position where you need to bag up asbestos waste, then this needs to be done correctly and safely. Asbestos can be exceptionally hazardous, therefore you must assess the risks before attempting to bag asbestos up yourself.
This guidance is for cement-bonded asbestos only, DO NOT attempt to remove or handle fibrous asbestos yourself, this should be done by a licensed contractor only. If you are unsure about the type of asbestos you have, contact us on 01623 272 611 for advice.
What to consider before handling asbestos
Bonded asbestos is likely to be found on garage roofs and side panels. It is advisable to get the asbestos tested before handling, to find out the exact type of asbestos you have.
Bonded cement asbestos is dangerous when it has been damaged, harmful fibres are released when the asbestos is broken. Do not break the asbestos up to fit into a bag, this will need to be double-wrapped instead. Restrict the number of people in the area when you are handling asbestos cement sheets. Asbestos fibres can easily become airborne, therefore only the people who really have to be in the area should be. Keep children and pets far away from the area. Ensure you have all the correct equipment and PPE before starting the task
Before starting, if you have any doubts, contact us on 01623 272 611!
Things you will need to bag up bonded asbestos
FFP3 Filter Mask
Type 5/6 Coverall with a hood
Red and Clear Asbestos Bags (UN Approved)
Strong durable disposable gloves
Garden sprayer with the wetting solution
Damp rags which can be disposed of
Safety shoes/boots with no laces (eg rigger boots or wellies)
Bagging up asbestos (bonded) – Step by Step
Ensure only the minimum amount of people required are within the area you are working.
Ensure you have all the correct tools/equipment close by and PPE has been put on correctly.
Mist the asbestos and surrounding area with a garden sprayer/wetting solution
Carefully place asbestos into the red asbestos bag. Ensure the bag is only 3/4 full to prevent spillages.
Seal the red asbestos bag with tape.
Place the red asbestos bag inside the clear asbestos bag
Seal the clear asbestos bag with tape
After you have bagged up the asbestos and made sure with tape, remove your PPE
Wipe down boots with a damp rag – place the used rag in a red asbestos bag
Use a new damp rag to wipe down the outside of the coverall. Use a gentle 'patting' action (rubbing can disturb fibres). Put a damp rag in the red asbestos bag
Peel off disposable coveralls, rolling inside out. Put coveralls in a red asbestos bag
Take off the asbestos mask LAST, and place it into the red asbestos bag
Tape the red asbestos bag closed and place it inside a clear asbestos bag. Tape the clear asbestos bag closed
Disposal of Asbestos once it's bagged up
Need some advice about Asbestos waste?
Call us on 01623 272 611 and we'll be happy to help