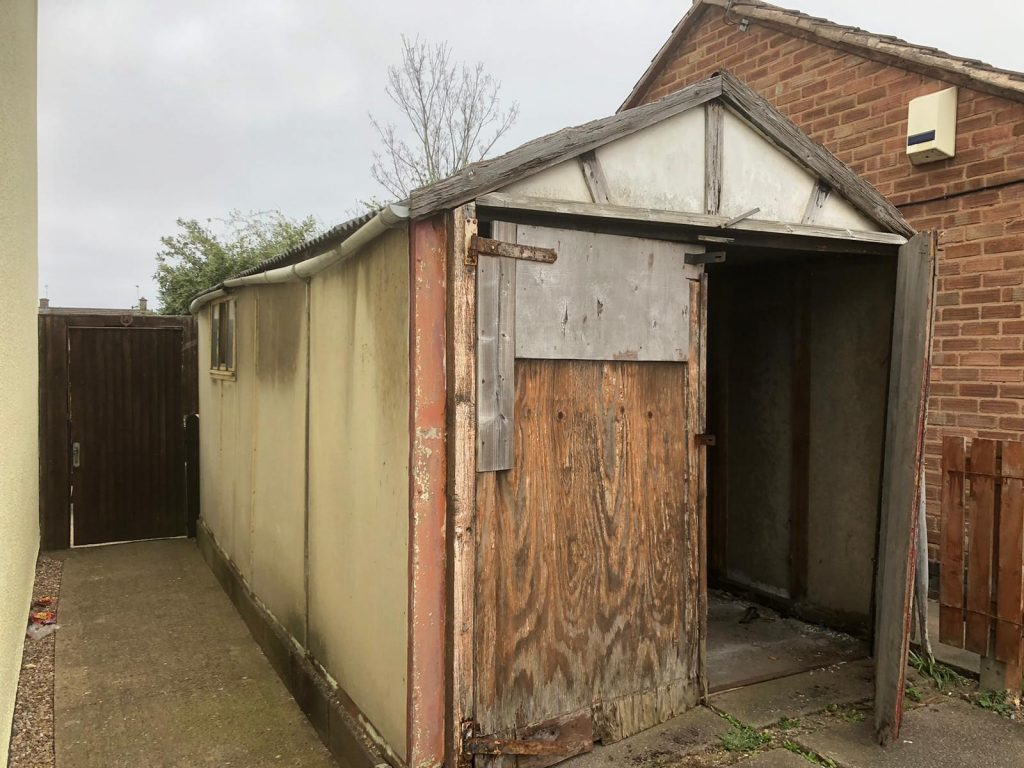 Asbestos was a great material which was used in building products – until the Heath Implications of Asbestos were discovered and it was subsequently banned for use in 1999. Thousands of asbestos garages and sheds are still in place today, with new homeowners or even current ones unaware!
We give you an idea of why asbestos was used in garages and how to check if your garage contains asbestos.
Why was asbestos used in garages and sheds?
Asbestos – the strong, durable, insulative material which was such a great material to add to building products. The large quantities being mined and the cost being so cheap resulted in asbestos being used in vast amounts of UK homes. Garages and sheds were not excluded.
Asbestos, mainly white (Chrysotile) was mixed with cement and moulded into the shapes we commonly see on garages. Corrugated sheeting, guttering and pipes. The material was easier to handle than heavy concrete so a plus point!
Obviously, at the time of production, it was not known how dangerous these asbestos fibres were. This is why getting a professional to remove your asbestos is important.
How to get a garage or shed checked for asbestos
The age: If the garage was built before the year 2000 it is a good indicator that it may contain asbestos
The look: Concrete corrugated roof sheets, flat compressed side panels – yes these can be made from asbestos
How to be 100% sure: Asbestos Testing is the only way to know 100% if the garage contains asbestos.
Some experienced asbestos surveyors can give a really strong presumption that asbestos is present in garages, however, testing is the most accurate way of telling.
What do asbestos garages look like?
So, there are different variations of the actual style of the garage but here are some general photos of what an asbestos garage or shed can look like.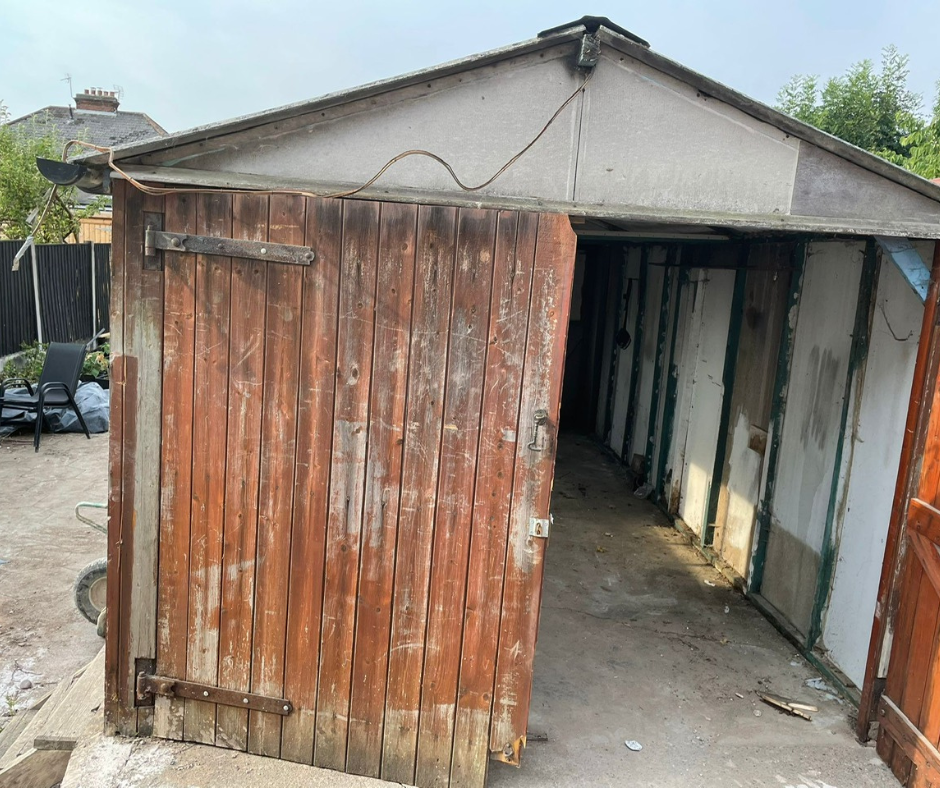 Can asbestos garages and sheds be left in place?
If the asbestos is in good condition and showing no signs of damage then yes it is safe to leave in place. For garages or sheds which are leaking or starting to show cracks, it will only be a matter of time before they collapse – therefore it is always best to get them looked at / removed before this happens.
Asbestos becomes dangerous when it is disturbed, the fibres start to release into the air and can be inhaled. It is when the fibres are inhaled that the health implications start.
Can I remove the asbestos garage or shed myself?
There is no law to say you cannot remove your own asbestos garage or shed, but it is strongly advised not to because of the risks. Unless you are fully trained to control the asbestos fibres released and know how to package them correctly, you should not be removing them.
If you do choose to have your asbestos garage or shed removed, ensure you use someone who is fully trained and licensed to carry out the work – Smart Asbestos Services carry out Asbestos Garage Removal and Disposal.
Correct disposal of asbestos garage or shed
You may be wondering how to dispose of an asbestos garage or shed. If you have used an asbestos removal company, then they should provide the disposal within their service. However, we understand that sometimes, this is not the case.
Top tips for asbestos garage disposal :
Do not put them it your general waste skip. The asbestos sheets can contaminate the whole load and cause health risks to the skip company
Try your local council, certain councils offer a local collection or disposal of small quantities of asbestos from domestic properties
Use a licensed asbestos waste transfer station. Private companies like Smart Asbestos, offer a wide range of asbestos garage disposal options
Never dispose of asbestos with anyone who is not licensed to accept it
Asbestos garage removal across Nottingham and the rest of the UK
Smart Asbestos offer complete Asbestos garage removal/demolition. From a single garage to double and even triple!
Whether it's just the roof of your garage or the whole structure, our specialist team can safely and securely remove asbestos garages and dispose of them at our licensed Asbestos Disposal Site.
So, if your garage is situated in or around Nottingham, Mansfield, Newark or anywhere else in the East Midlands, get in touch on 01623 272 611 or us our form below.
Need some advice about Asbestos waste?
Call us on 01623 272 611 and we'll be happy to help