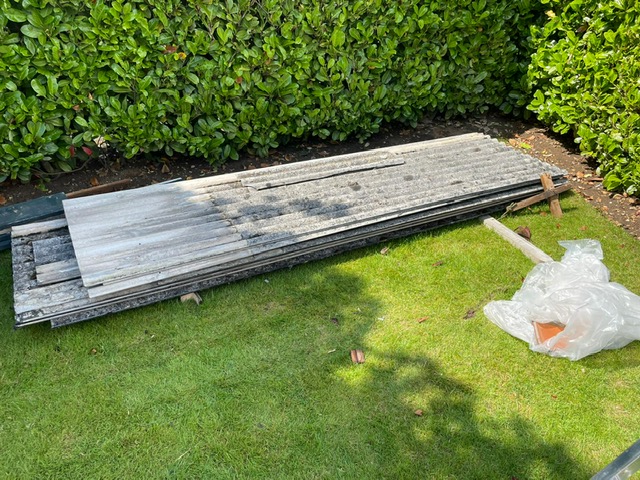 And the easiest place to take it
When looking for asbestos disposal in Nottingham, you automatically think that the Local Council will be the number 1 choice – For many, this is a great place to start, however, when you start to read the rules it becomes a little more in-depth and time-consuming. For this reason, Smart Asbestos have tried to make the disposal of asbestos a lot easier for domestic residents.
You can be a resident of any county to use our disposal service.
Whether your builder has removed the asbestos or you have removed the asbestos yourself – We can accept it at our site
No vehicle is off-limits (unless it's an articulated lorry). If you feel comfortable bringing the asbestos in a car, van, trailer, lorry – then we can accept it at our asbestos disposal site.
Assistance is provided at our site, our trained staff will help you unload the asbestos into our enclosed skips. If you struggle to lift, then let us know and we can ensure that we have the right amount of staff on hand to unload your vehicle ourselves.
Asbestos can be disposed of which has come from a different property to yours or has been fly-tipped on your land.
We accept asbestos from agricultural buildings, farms and other conversion works
Businesses, traders and landlords can use our service
What do you do when booking your asbestos disposal in Nottingham appointment
The address where the asbestos is from
A preferred day for disposal
Our office will contact you by email/phone to confirm your booking. Sometimes we do get booked up quickly but we will always try and get you in as close to the preferred date you have chosen.
Types of asbestos that can be disposed of
For many older properties around Nottingham, there are a few places where asbestos can be found in your home.
Our asbestos disposal site can accept all asbestos types which can be found in the home.
Here's a list of what we can accept for disposal
Tiles
Pipes
Floor tiles and adhesive
Soffits
Artex Removal Waste
Popcorn Ceiling Removal Waste
Don't worry if you have something that's not on the list , we will be able accept the asbestos, just give us a call or book this online.
What's the cost of asbestos disposal in Nottingham?
We have a really simple pricing structure:
Anything from 1-10 bags or sheets of asbestos is charged at £80 for disposal
Anything over 10 bags is an additional £8 each
Bags of asbestos are based on a 25kg weight. Sheets are based on a single asbestos roof sheet no more than 2.5m long. Other items such as asbestos pipes are priced per length, so if you have 3 lengths of asbestos pipe to dispose of, we would charge £80. Simple!
As you can see, it's a pretty straightforward process to dispose of your asbestos with us. Restrictions are very minimal and the cost is competitive.
If you are looking for a simple and cost-effective as well as legal way to dispose of your asbestos in Nottingham then contact us at Smart Asbestos.
A Husband and Wife team setting up as a small asbestos removal company, Smart Asbestos grew to operate their own Environment Agency Licensed Disposal Site in Kirkby in Ashfield, Nottingham. With the growing staff through training and knowledge, we have become a trusted household name within the Nottinghamshire, Derbyshire and Newark area. Word of mouth is the most important form of advertising and we pride ourselves on recommendations from past clients.
Carrying out Asbestos Removal to high standards and within the Legal Duty of Care is why we are the first choice for many local authorities, businesses, agricultural land owners and private domestic customers.
For more information on how we can help with your asbestos project please feel free to contact our team at our office in Nottinghamshire [email protected]
Need some advice about Asbestos waste?
Call us on 01623 272 611 and we'll be happy to help