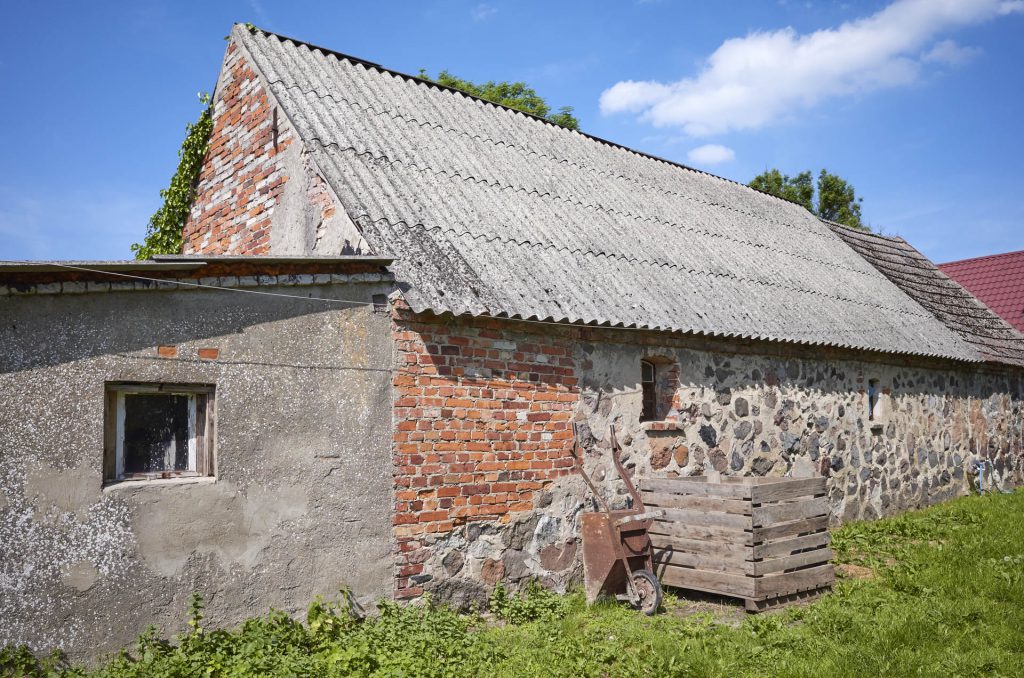 The cost of asbestos removal varies from the type of asbestos to the location within the UK.
Below is a cost comparison for asbestos removal in the East Midlands area. Using this guide as a baseline for asbestos removal prices throughout the UK may be useful. In general, we cover the whole of Nottingham, Derbyshire, Newark and Lincoln with our asbestos removal services.
In order to establish the cost of asbestos removal, firstly you need to determine how much asbestos you have at your property and what type of asbestos needs to be removed.
For licensed asbestos such as pipe lagging, AIB Board and Insulation a Licensed Asbestos Removal Company is required. The cost for licensed asbestos removal is reflected by the in-depth training the contractors have to carry out as well as the fatal consequences the asbestos removal can cause.
Non-licensed asbestos removal is not necessarily less expensive or less dangerous, however, it does not require a license and can be removed using Category B Trained operatives (subject to the type of material).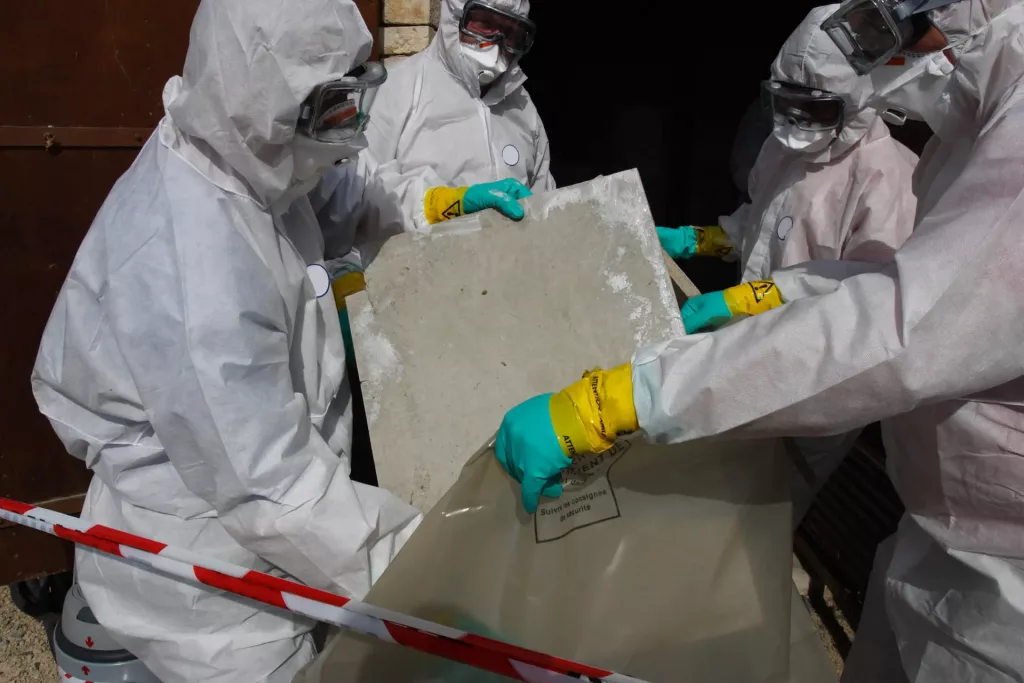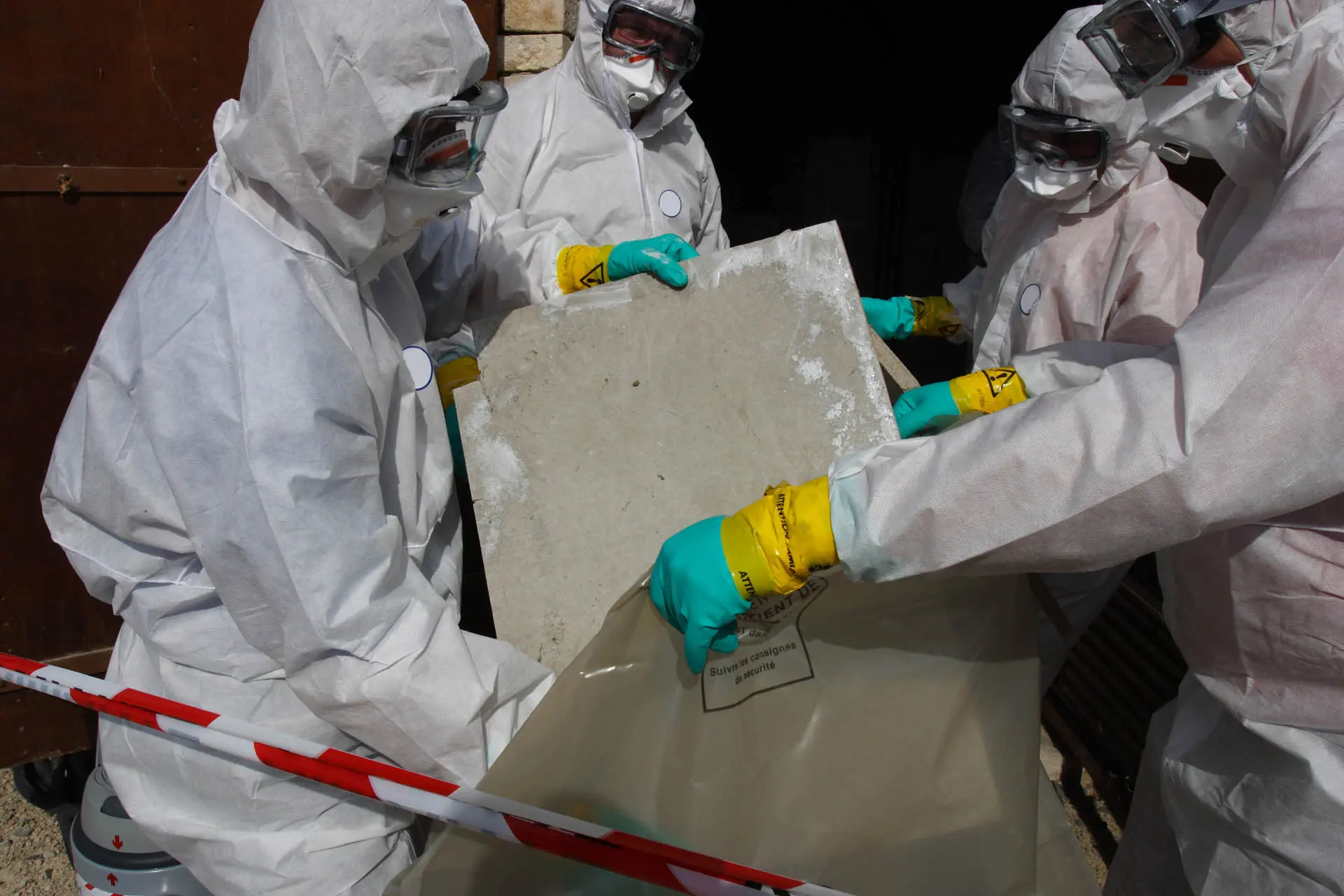 How to identify asbestos and what is the cost of asbestos testing
We always recommend that you carry out testing to see if the material you have does in fact contain asbestos. The sample taken should be sent to a UKAS Accredited Laboratory for assurance in the results.
There are various ways to get asbestos tested in the UK, here are two options:
DIY Asbestos Testing Kits
The cost of DIY Asbestos Testing kits ranges from £35-£50 for one sample.
The cost of a professional to visit your property and take a sample ranges from £75-200. This can include taking a sample for testing or a complete asbestos survey
For a professional visit with Smart Asbestos, the cost of testing is between £95 and £105 for one sample to be taken.
Does asbestos need to be removed?
If you have received a survey or have had professional advice that the asbestos can be left where it is then encapsulation is an option.
Asbestos encapsulation involves applying a protective paint/adhesive to the asbestos which prevents the release of asbestos dust.
We always recommend that if the asbestos is not damaged or likely to be disturbed then it is best left in situ. This applies to all types of asbestos.
In general, the average cost of asbestos encapsulation is £8 per m2
How much is asbestos removal?
We have provided cost examples for non-licensed asbestos removal below. For licensed asbestos removal works a more in-depth survey is required.
Cost of asbestos garage roof removal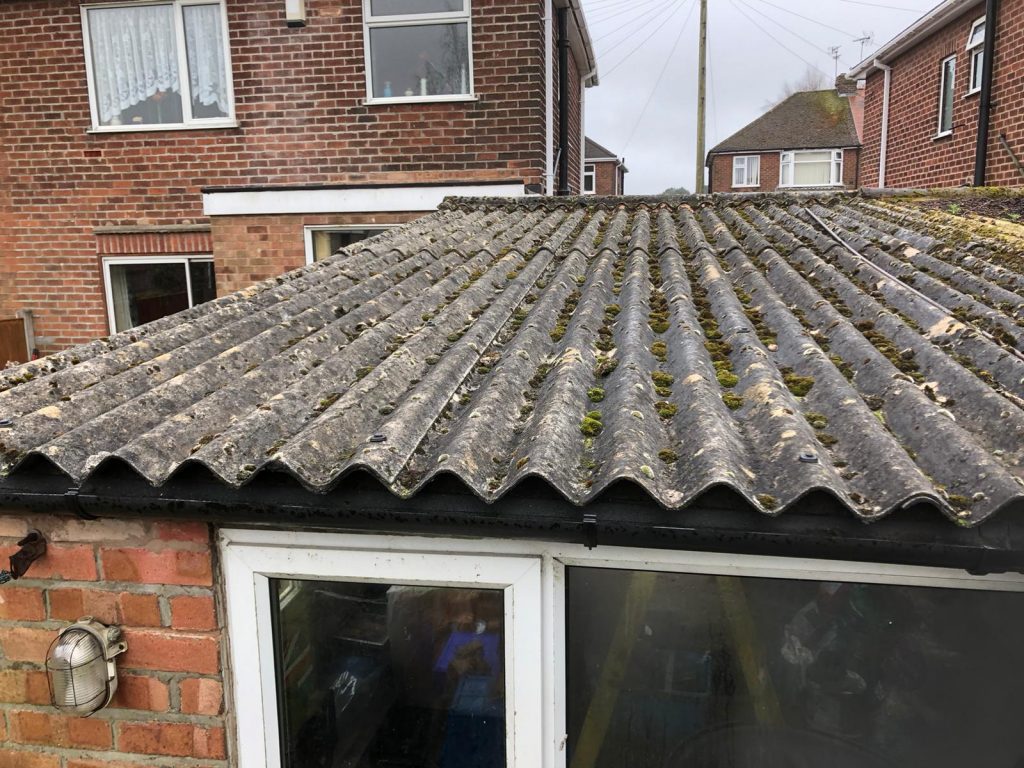 Many garages today still contain asbestos. As the years pass the asbestos becomes damaged and start to release asbestos fibres – this is when asbestos becomes dangerous and should be removed.
Repairs on asbestos garage roofs are possible but wear and tear starts to set in, we always advise getting the roof removed.
Prices for garage roof removal:
Whether the asbestos garage roof has a pitch or is flat can sometimes determine the price of removal.
Single garage roof: Between £350-425 (including VAT)
Double garage roof: Between £525-650 (including VAT)
What affects the price of asbestos removal
Accessibility (ivy and overgrowth)
Pitch of the roof
Lining within the roof
We find if your garage as a whole has seen better days it may be worth getting the complete garage removed, otherwise you do have the option of replacing the garage roof with non-asbestos material.
Cost of Asbestos Floor Tile Removal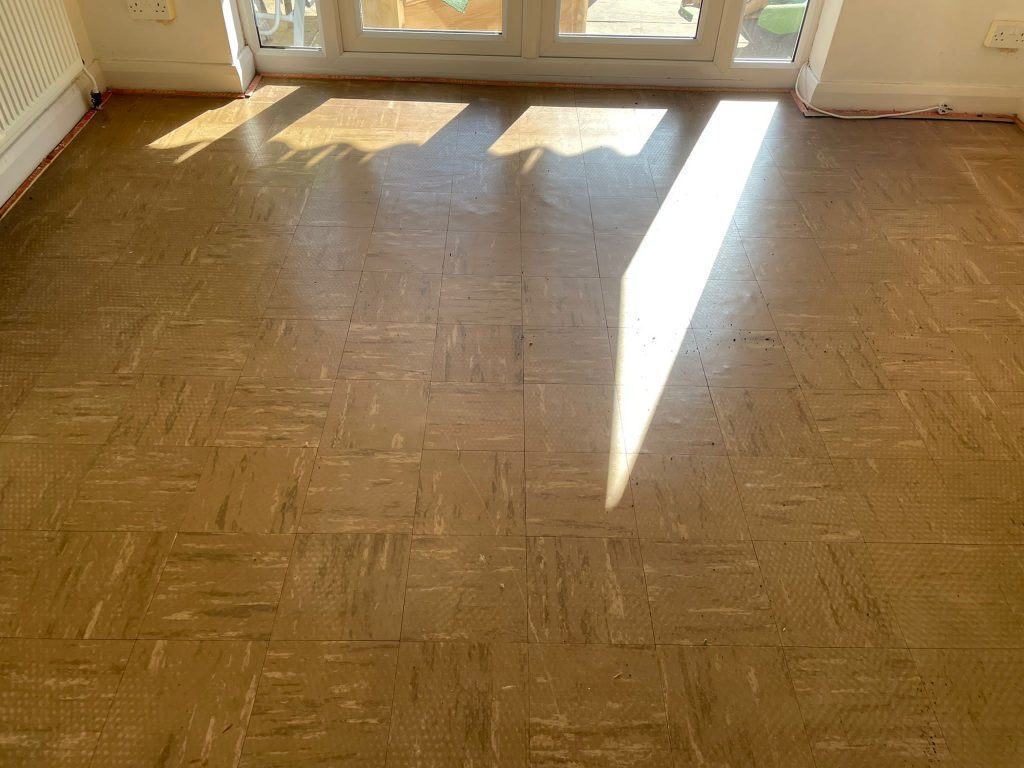 Asbestos Floor Tiles were used from 1930-2000 as a building material. Therefore, if your property was built during this period, it is likely the tiles could contain asbestos. As well as the floor tiles themselves, the adhesive could also contain asbestos. Floor tiles come in various forms, and some reflect modern designs, therefore it is always advisable to get the tiles tested for asbestos presence.
Asbestos floor tiles are fine to be kept in place, providing they are showing no signs of damage or are unlikely to be disturbed. We have found that many new homeowners find the floor tiles under carpets, so do not realise they are in the property until they start to renovate.
Prices for asbestos floor tile removal
This cost guide is based on a single layer of asbestos floor tiles to be removed. In general, the adhesive which is left behind can be covered with a non-asbestos material, therefore the adhesive does not normally require removal. However, for projects where the asbestos bitumen does need full removal, we have also provided a cost guide for this. The asbestos adhesive is a long process to remove in full, therefore the cost of this can be quite expensive. It is always best to call us with your plans for the floor and we can advise you on the best solutions.
Single-layer of asbestos floor tile removal: £35 per m2 (including VAT)
Asbestos bitumen removal: £50 per m2 (including VAT)
Cost of Asbestos Water Tank Removal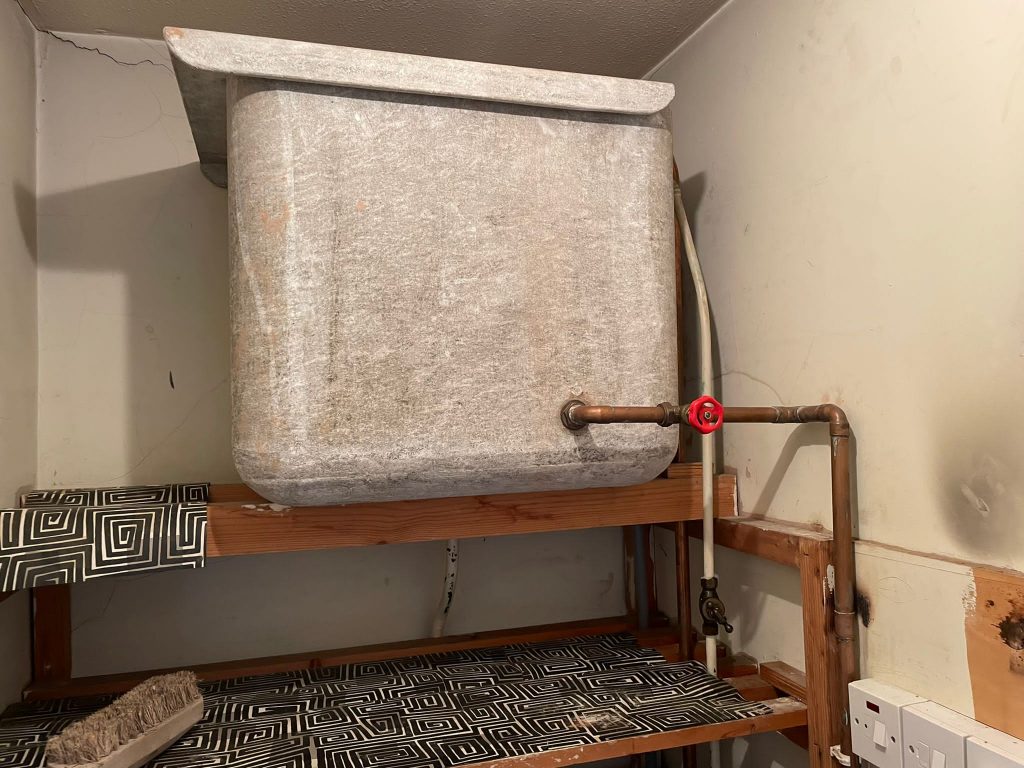 Asbestos water tanks are made of cement and asbestos were installed during building works between 1930 and 2000. If your domestic or commercial property was built between this period is likely the water tank could contain asbestos.
If your water tank is showing signs of damage or wear and tear then it is always advisable to have this removed rather than repaired. Many new homeowners undergoing renovations prefer to have the asbestos water tanks removed completely.
Prices for asbestos water tank removal:
Single asbestos water tank of any size: Between £175 – 225 (including VAT)
Factors that may affect the price:
If the tank requires to be broken to fit through hatches then this may increase the price but can still be carried out.
Should the tank require draining and disconnecting then again this may increase the price but can still be carried out.
Cost of Asbestos Down Pipe Removal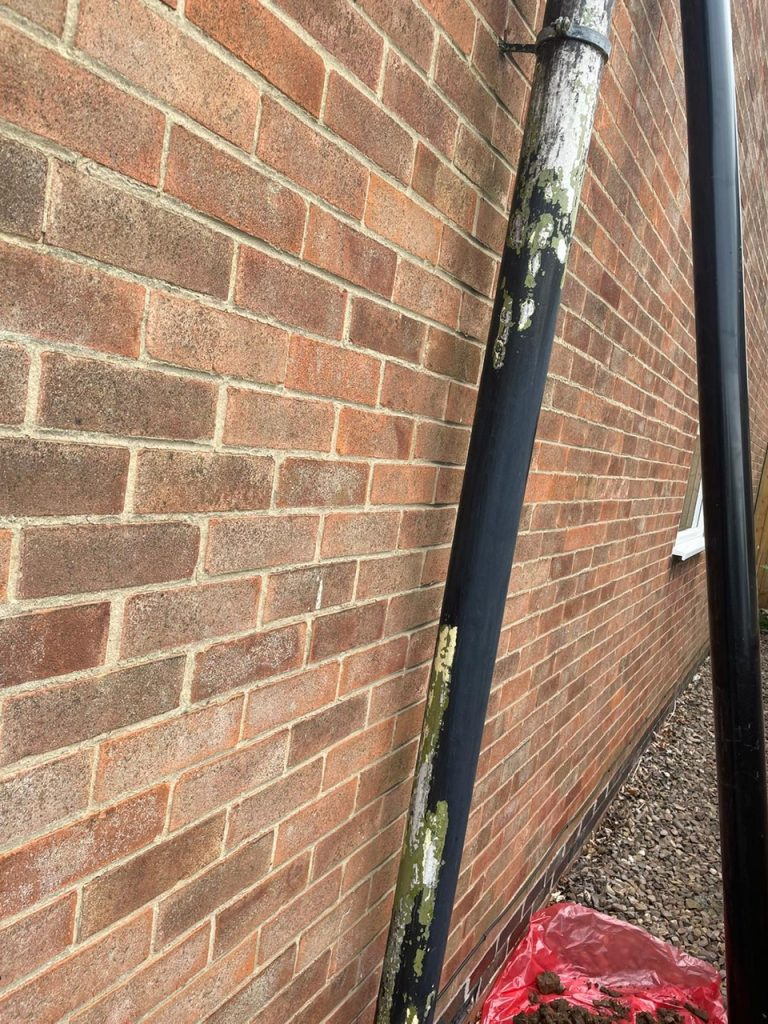 Asbestos was used in building materials within the period of 1930-2000. If your property was built during this time it is likely your asbestos down/soil pipe could contain asbestos.
Leaving the pipe in place (if possible), is always advisable, however, if it is showing signs of damage, leaking or wear and tear then we always advise for the pipe to be removed.
Asbestos pipes can run from the top of your property on the exterior or may run from halfway down the property. Either way, if the pipe is empty and can be disconnected easily then this is a straightforward job to complete.
Should you require the pipe to be replaced at the same time as the removal, Smart Asbestos can carry this out at an additional cost on request. Replacing the pipe at the same time as removal ensures you are not left without services.
Prices for asbestos downpipe removal:
Single Storey building (bungalow): Between £195 – £225
Two Storey Building: Between £275 – £310
Factors that affect the price:
Accessibility
Multiple pipes to remove
If the pipe is full and requires draining
What is involved in asbestos removal and why does it cost so much?
Asbestos is life-threatening material that needs to be handled carefully by trained professionals. By carrying out asbestos removal safely the cost for training, experience, equipment, insurance and waste disposal quickly mounts up. Not only do our staff have to keep themselves safe but it is paramount on every job that you as a customer and your surrounding environment is kept safe too.
In general, when asbestos is removed by professionals their methods will involve:
Undertaking a risk assessment of the asbestos removal requirements and documenting this
Preparing and executing a Plan of Work for the asbestos removal works
Having the right equipment and insurance in place to carry out the works
Maintaining equipment for asbestos removals such as specialist vacuums, RPE and lifting equipment
Covering any areas which are not being removed to protect them from asbestos fibres
Cordons put into place to prevent unauthorised access to the asbestos removal area
Keeping dust levels low with spray suppression equipment
Correct handling of the asbestos material to ensure no fibres are released
Correctly and clearly labelled asbestos waste bags/packaging to wrap the asbestos in
Decontamination of the removal area and personal decontamination
Correct license and transportation of the asbestos waste
Once works have been completed, you will be provided with an asbestos certificate (Hazardous Waste Consignment Note) prior to the staff leaving the site.
Secure and licensed disposal of asbestos waste at a licensed disposal site.
A further completed copy of the certificate shall be provided to you once the asbestos has been disposed of.
Need some advice about Asbestos waste?
Call us on 01623 272 611 and we'll be happy to help